NHS Nightingale Hospital
Location: NHS Nightingale, ExCel, London.
Scope of project
On Saturday 21st March, NHS Chief Executive Sir Simon Stevens announced that a new hospital would soon open, to provide support for thousands of patients with coronavirus.
The NHS Nightingale Hospital, London, would be based at the ExCeL conference centre in East London; and would initially provide up to 500 beds equipped with ventilators and oxygen. The capacity would then continue to increase, potentially up to several thousand beds, should they be required.
NHS clinicians and managers would work with military planners and engineers to create, equip, staff and open the hospital – and Alpine Works was asked to play a crucial part.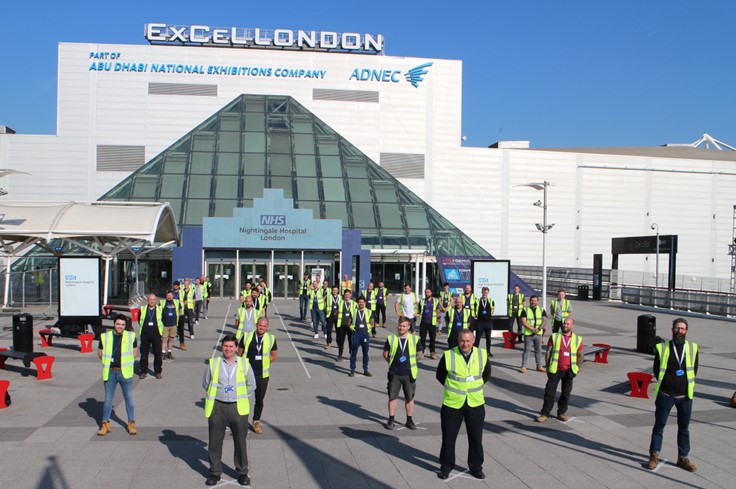 "We were used to big projects; and we were used to important and urgent projects – but I knew immediately that this would be a challenge like no other. This was a national emergency; and we had been asked to step up and do whatever we could to support the nation's response, nothing less than that."
Installation
Our works was to to deliver the power, containment and lighting to 2,000 bed bays and approximately 120 nursing stations – as well as ancillary areas and a mortuary.
As well as the electrical work, our mechanical team would install ventilation works and the copper piping for medical gas supplies – oxygen – to be delivered to the bed heads. We would be supported by the Army, working closely with other suppliers.
The operation swiftly shaped up like a well-oiled machine. We were required to fit ten power sockets for each bed, of which five would be on a generator backup – twenty thousand in total. Long benches were set up, and as the materials came in, a team of 10-12  at each bench cut the trunking, fitted the boxes, assembled the wiring, fitted the sockets and then fitted them to the bedheads along with the lighting.
We followed immediately behind the teams setting up the partitioning – and immediately behind us came the sanitary cleaning teams, who set up large plastic medical screens: a non-stop process.
"When we all came together on the 23 March 2020 all the models simulating how the disease may spread at that time and the projections for critical care beds across London indicated there was a shortfall running into the thousands. The delivery of this facility was urgent. We created an efficient and skilled team of teams working to a relentless drum beat. You worked tirelessly, with a remarkable level of energy, enthusiasm and integrity to deliver on the vision. After 9 days as a team you delivered first phase of 500 beds within the Excel exhibition halls ready to receive patients, plus also all the base infrastructure and enabling work for all the subsequent phases.

This is a truly remarkable feat in itself. But you continued with unflagging resolve to deliver upon everything that has been asked of you within incredibly tight timescales in order to put in place the insurance policy that was requested from you."